Walla Walla Real Estate Update – May 2022
The NWMLS reports that Washington's housing market has become "more balanced, and not so crazy – and that's a good thing". During May, the state experienced a significant increase in listings compared to a year ago, a slowdown in sales, and prices still rising. Here's what's happening in Walla Walla:
Inventory experienced a monthly year-over-year increase for the 7th month in a row. While the number of homes listed for sale in the Walla Walla valley remained at historically low levels, there was a continued improvement. When compared to the previous year, inventory has now grown for 7 months in a row. In May, there were 85% more homes listed for sale than were available 12 months ago.
May was the busiest closing month of the year. Closed home sales increased 22% over the previous month but year-to-date sales are still slightly behind last year's pace. Buyer demand remained high as buyers looked to lock in rising interest rates and take advantage of having more homes to choose from.
Median and average sales prices set record highs. While inventory gains are expected to slow the rate of price growth, prices are still rising in Walla Walla. The monthly median sales price of $435,000 set a new record high as did the monthly average sales price of $500,487.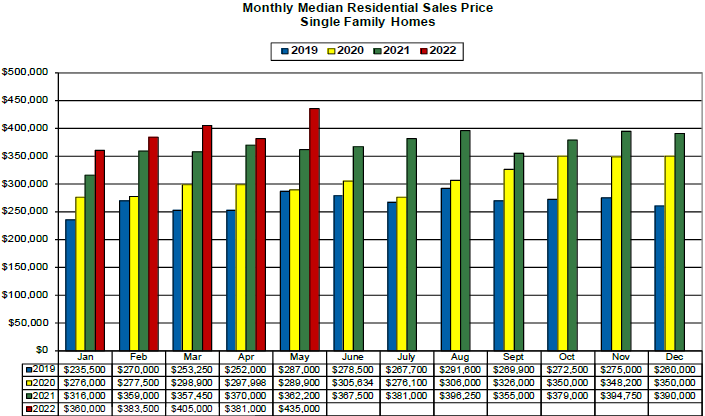 May's Listings: 165
The month's listings increased by 22% over the previous month and was 85% above the number of homes listed a year ago.
May's Closings: 71
Closed home sales jumped 22% over the previous month and was 15% higher than the number of homes that closed in May of last year.
May's Median Sales Price: $435,000
The month's median sales price increased 14% over the previous month and was 20% higher than the median sales price for May of last year.
Learn More
*WWMLS WA Data