Walla Walla Real Estate Update – March 2022
Rising interest has not yet slowed home sales in the Walla Walla Valley. During the first quarter, strong demand continued even though buyers often had to wait for homes to come on the market. Here are a few highlights:
The monthly median sales price hit a new record high. Walla Walla's monthly median sales price passed the $400,000 mark for the first time in March bringing the quarterly median sales price up to $382,883. The was an 11% increase over the median sales price for the first quarter a year ago. While rising interest rates and listing inventory are projected to slow price appreciation during the year, this has not yet happened.
Quarterly Home sales are just 3% off last year's pace. After a slow start early in the year, home sales picked up in March bringing year-to-date closings within 3% of closings during the same period a year ago.
Listings increased slightly. Inventory remained at historic lows across the valley but was "less low" than a year ago. A strong seller's market continued as there were more buyers looking for homes than there were listings available for sale.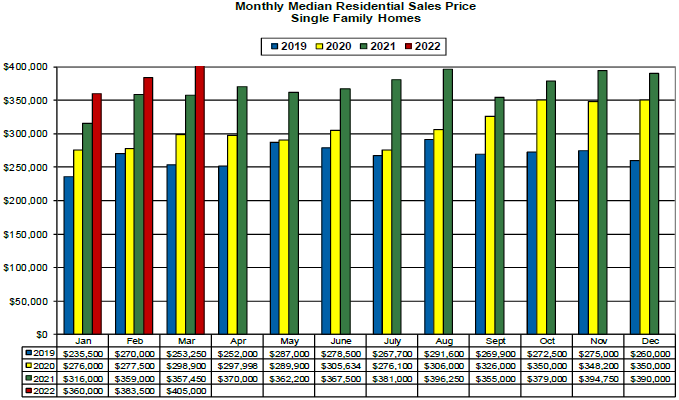 Many brokers are reporting an increase in the number of sellers who are in the process of preparing their homes to sell. Seasonally April, May, and June are typically busy listing months and brokers are optimistic this will be the case again this year.
March's Listings: 108
The month's listings increased 33% over the previous month and ended up 27% above the number of homes listed for sale a year ago.
March's Closed Sales: 59
Home sales increased 47% over the previous month but ended 3% lower than the number that closed in March of last year.
March's Median Sales Price: $405,000
The medians sales price increased 6% over the previous month and was 14% higher than the median sales price in March of last year.
Learn More
*WWMLS WA Data