Walla Walla Real Estate Update – October 2023
Further increases in interest rates continued to influence the expected seasonal slow-down during the fall and winter months.  Yet when compared to the same time a year ago, the month of October showed some positive signs.
Buyers had more homes to consider this October.  Inventory grew to 3 months supply compared to just 2.3 months a year ago.  At month end, there were 20% more homes listed for sale than were available a year ago.
Home closings and pending sales were up over the previous year.  Although total home sales for the year were 17% off last year's pace, the months closings were 9% ahead of the same month a year ago.  And there were 33% more pending sales when compared to October of last year.
Home prices strengthened.  While price growth has been stagnant for much of the year, Walla Walla's median price for October was up 5% over a year ago.  However, further price growth will likely be hampered by high interest rates which aren't expected to soften till Spring of 2024.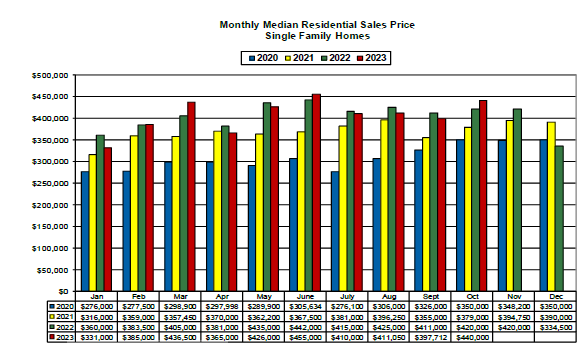 October's Listings: 200
The month's listings remained at the same level as the previous month but there were 20% more listing then were available a year ago.
October's Closed Sales:  51
The month matched the number of homes sales from the previous month but ended up 9% ahead of the number of homes that closed in October of last year.
October's Median Price:  $440,000
The months median sales price jumped 11% over the previous month but was just 5% above the median sales price for October of last year.
Learn More
*NWMLS WA Data