Walla Walla Real Estate – July 2023
The Northwest MLS statistics summarizing July activity for the Walla Walla Valley showed a slight increase in months of listing inventory and declines in both closed home sales and median prices.
The monthly supply of inventory ticked upward. A slower pace of sales contributed to a modest uptick in months of supply, rising from 1.93 in June to 2.35 months in July: a year ago, there were 1.76 months of supply. Still with the industry using 4-6 months as the indicator for balance, our market continues to trend in favor of sellers.
Closed home sales were 20% off last year's pace. A housing market downturn was inevitable with higher mortgage rates, but there were some positive signs. Pending sales – homes under contract but not yet closed – increased by 37% over the previous month, which points to an increase in closing activity through the balance of summer.
The Median Sales Price dropped below a year ago. The month's median price was 1.2% below the same month a year ago. Overall, the year-to-date median sales price has experienced modest gains, but the rate-of-price growth has slowed significantly in recent years.
Windermere Chief Economist, Matthew Gardner, reports that "mortgage rates are unlikely to move tangibly lower during the balance of summer, but if the economy starts to soften this fall, rates could start to fall and revitalize the market."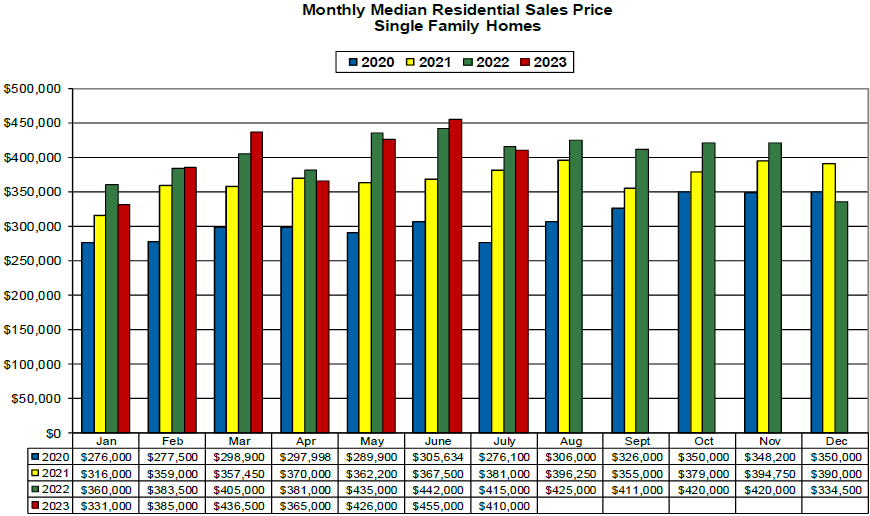 July's Listings: 171
Listings increased 7% over the previous month and ended on par with the number of homes listed for sale a year ago.
July's Closed Sales: 51
Closed home sales dropped 20% from the previous month and ended up 11% below the number of homes that closed in July of last year.
July's Median Sales Price: $410,000
The median sales price dropped 10% from the previous month and was 1.2% down from the same month a year ago.
Learn More
*WWMLS WA Data