Walla Walla Real Estate Update – January 2023
The spring real estate market hit the Walla Walla Valley early this year as buyers were encouraged by declining mortgage rates and increasing inventory.
Pending Sales Surged over the previous month. Despite a slow closing month, pending sales in the Walla Walla Valley increased 44% from December. A combination of pent-up demand, more reasonable interest rates, and new properties coming on the market are factors that led to January's new sales activity.
Inventory continued year-over-year growth. The selection of properties improved significantly from a year ago. January's listing total was 40% higher than the previous year.  Inventory grew to 4.94 months compared to just 1.07 months a year ago. The increase in buyer activity benefited sellers but realistic pricing was a key factor in getting homes sold.
Prices fell below a year ago numbers. The median sales price dropped 8% from a year ago as January's closed home sales occurred mostly in the lower to mid price points. Windermere's Chief Economist, Matthew Gardner expects prices to fall a little further before stabilizing and then starting to rise again at a significantly slower pace than experienced in the past couple of years.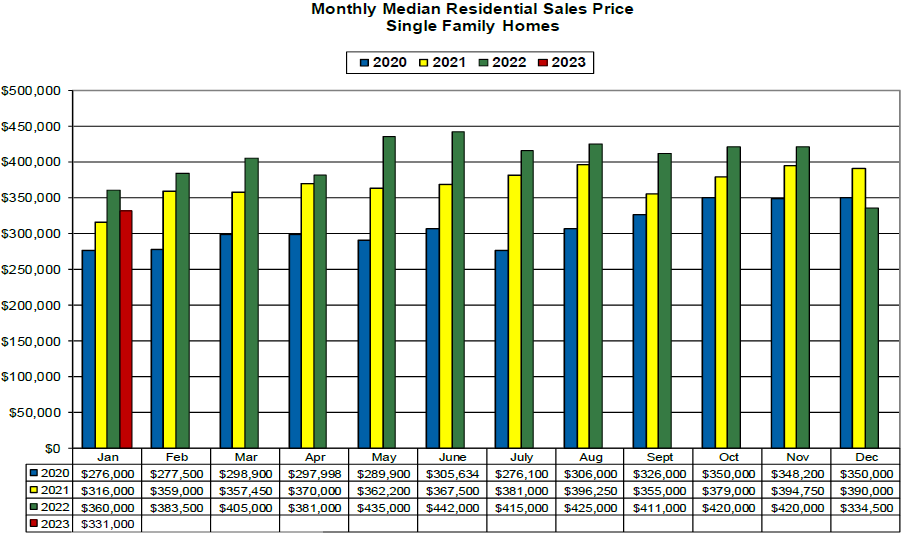 January's Listings: 138
The number of homes listed for sale held steady with the previous month but was 40% above the number of homes listed for sale a year ago.
January's Closed Home Sales: 18
Closings declined 31% from the previous month and ended 60% below the number of homes that closed in January of last year. This reflected the low number of contract signings that occurred at the end of 2022.
January's Median Sales Price: $331,000
The median sales price declined 1% from the previous month and was 8% lower than the median sales prices a year ago.
Learn More
*WWMLS WA Data