Buyers are still buying homes in the Walla Walla Valley, but we are seeing a return to some creative financing methods as motivated home buyers and sellers grappled with higher mortgage rates. Brokers reported seeing more 2/1 buy-downs and adjustable rate mortgages with buyers planning to refinance when the rates come back down.
Inventory increased by 1.2 months over a year ago. Brokers added 63 new listings during October. The uptick in supply boosted inventory to 2.3 months, up from a year ago when inventory was at just 1.1 months. The increase in inventory meant sellers needed to be more focused on price and condition.
Home closings fall 15% off last year's pace. The market typically slows as we move towards the holidays but this year the slowdown in home sales has almost certainly been caused by rising mortgage rates. When compared to last year through the first 10 months there were approximately 100 fewer home closings this year. Pending sales were down as well, falling 29% from the previous month.
Price growth continued even as sales slowed. With less than 4 months of inventory, Walla Walla still is considered a seller's market. The low inventory pushed the median sales price 11% higher than a year ago. As we head into the new year, we expect the rate of price growth to slow as inventory grows and sales decline.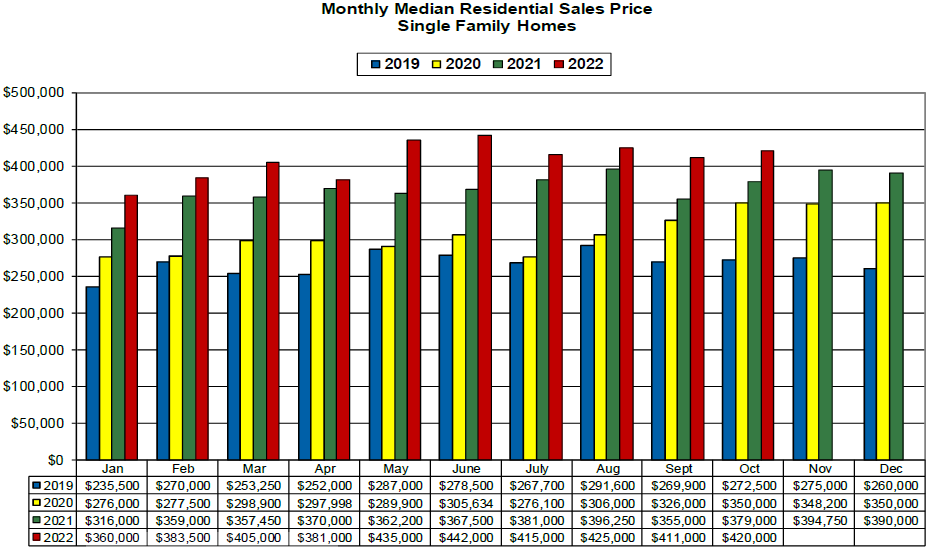 October's Listings: 167
Listings declined 5% from the previous month but ended 4% above the number of homes listed for sale a year ago.
October's Closings: 53
Closed home sales dropped 12% from the previous month and ended 35% below the number of homes that closed in October of last year.
October's Median Sales Price: $420,000
The month's median price increased 2% over the previous month and was 11% higher than the median sales price for October of last year.
Learn More
*WWMLS WA Data