Walla Walla Real Estate – September 2023
As we head into the fall season in the Walla Walla Valley, the number of closed transactions continued to decline with limited growth in year-over-year median price.
Continued decline in transactions. "The real estate market typically slows down in the fall and winter months," says Mason Virant, the associate director for the Washington Center for Real Estate Research. "However, the high-interest rate environment has further decreased the purchasing power of prospective buyers leading to a continued decline in year-over-year transaction volume." At the end of the 3rd quarter, home sales in the Walla Walla Valley were 19% off last year's pace.
Listing inventory continued to grow. As sales slowed, inventory picked up a bit. At the end of the 3rd quarter, inventory had grown to 3.08 months as compared to just 2.38 months a year ago. The seller's market continued with inventory remaining below the balanced range of 4-6 months.
Median Price Growth remained stagnant. Through the first 9 months of the year, the Walla Walla Valley's median price has remained at last year's levels. The slowdown in sales has dampened price growth. However, CoreLogic's Economist Selma Hepp says, "The combination of low inventories and pent-up demand will have sellers thinking positively about the options next year.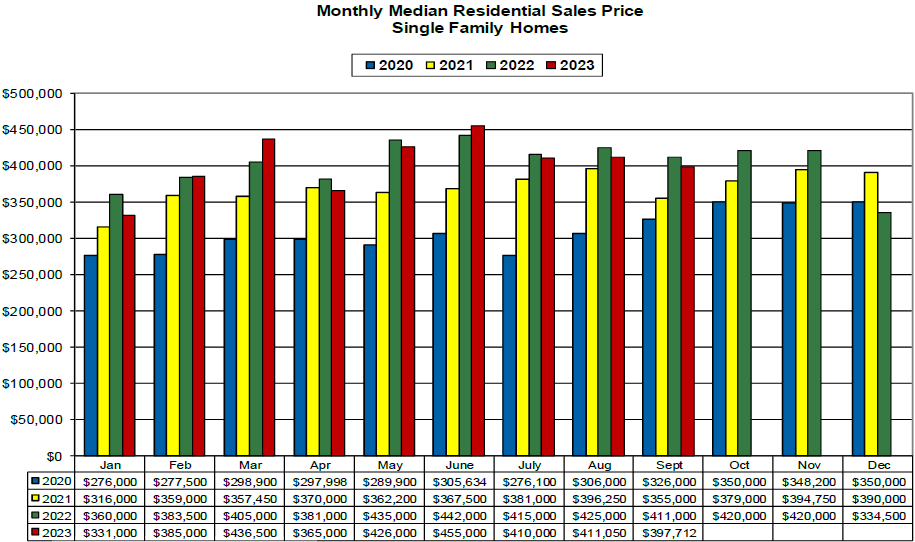 September's Listings: 199
The number of listings increased by 14% over the previous month and was also 14% above the number of homes listed for sale a month ago.
September's Closed Home Sales: 50
Closings dropped 18% from the previous month and ended up 26% below the number of homes that closed in September a year ago.
September's Median Sales Price: $397,712
The month's median prices dropped 3% from the previous month and was also 3% below the median sales price for September of last year.
Learn More
*WWMLS WA Data