Walla Walla Real Estate – June 2023
Although at a lower velocity than in previous years, low inventory and higher interest rates have kept the overall market in a more balanced state as sales kept pace with new and existing inventory.
At the midway point in the year, sales were still 22% off last year's pace. Sales have picked up during the last two months but a sluggish beginning to the year has kept closings lower than a year ago. Walla Walla is still experiencing demand but buyers are looking for homes that are well cared for and updated.
Q-2 showed sales and price growth compared to Q-1. During the second quarter of 2023 closings were up 54% and prices increased 8% compared to the first quarter of the year. This increase in momentum points to a busy summer market ahead.
YTD Median Sales Price was stagnant compared to year a ago. Although prices increased during the second quarter of this year, the YTD median sales price has not experienced growth compared to the same period a year ago. For many, this is a welcome sign as the significant price growth of the previous few years was unsustainable. Windermere's economist, Matthew Gardner, expects price growth to be modest during the remainder of the year.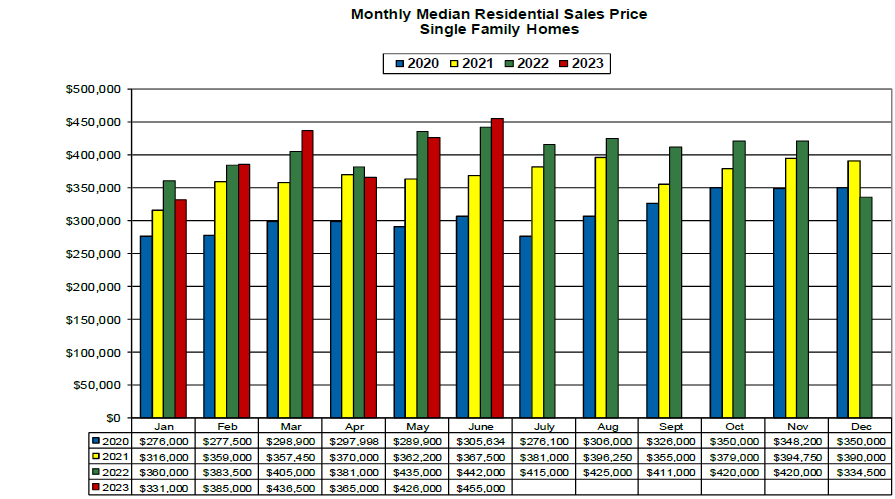 June's Listings: 160
The number of homes listed for sale declined 9% from the previous month and ended up down 11% from the number of homes listed a year ago.
June's Closed Home Sales: 63
The month's closing stayed steady with the previous month and ended up 16% below the number of homes that closed in June of last year.
June's Median Sales Price: $455,000
The median sales price increased 7% over the previous month and ended up 3% above the median price for June of last year.
Learn More
*WWMLS WA Data