Walla Walla Real Estate – May 2023
Home buyers in the Walla Walla Valley found the largest selection of listings last month since November. While rising interest rates are deterring some buyers, many others are moving forward powering the normal seasonal upward trend for market activity.
Both Pending Sales and Closed Sales Surged. May was the busiest month of the year for pending sales and closed home sales. Monthly sales surged 68% and pending sales were up 54% over the previous month. While market momentum indicates a busy summer ahead, annual sales are still 23% off last year's pace.
Listings rise 6% over a year ago. Good weather brought more buyers out to tour homes and more sellers listed their homes to capitalize on the market activity. At month end, there was 1.68 months of inventory compared to 1.31 months a year ago. Where interest rates go through the remainder of the year will play a large roll in how many listings remain on the market for extended periods of time.
Median Home Prices decline slightly from last May.  Market-priced homes are still selling quickly and multiple offers have returned for desirable properties. Yet, the slowdown in sales this year has meant sellers must be more realistic when pricing homes. The median sales price slipped 2% below a year ago.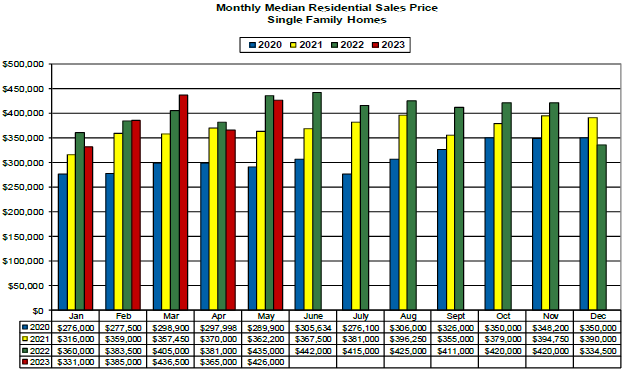 May's Listings: 175
The number of homes listed for sale increased 23% over the previous month and was 6% above the number of homes listed for sale a year ago.
May's Closed Home Sales: 62
Home closings surged 68% above the previous month's closings but ended up 9% below the number of homes that closed in May of last year.
May's Median Sales Price: $426,000
The median sales price increased 17% over the previous month but remained 2% below the median sales price for May of last year.
Learn More
*WWMLS WA Data