Walla Walla Real Estate – March 2023
Real Estate Brokers around Washington State say the market is moving in a positive direction as we head into the second quarter of the year. In the Walla Walla Valley, key indicators, including new and active listings, pending and closed sales, and prices are trending upward.
New and active listings increased. There were more homes listed than closed during the month of March. At the end of the first quarter, the number of homes listed for sale had increased 36% over the number of homes that were listed a year ago.
Pending and closed sales continued to grow. Although year-to-date sales are behind last year's pace, momentum is building. March became the busiest closing month of the year – more than doubling the number of closed home sales from the previous month. In addition, the number of pending sales grew 47% over the previous month as buyers continued to write new purchase contracts.
Prices trended upward. While much of the state is experiencing annual declines in home prices, Walla Walla was one of 8 counties to post annual gains. In March, the median sales price for the valley was up 8% over a year ago.
Many brokers feel our spring real estate market is showing positive signs. What happens with rates going forward will play a strong role in determining whether the housing market bumps along or picks up speed.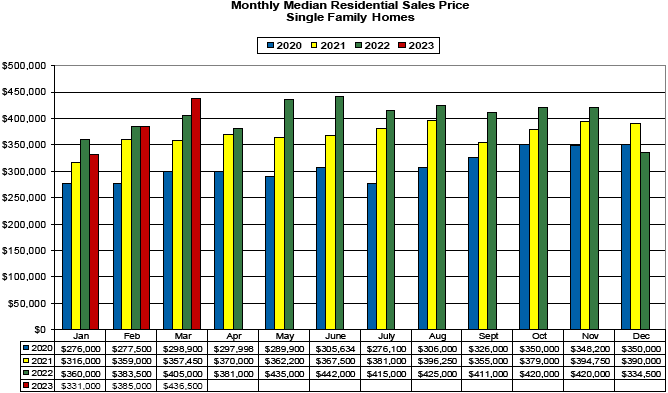 March's Listings: 147
Listings increased 9% over the previous month and ended 36% above the number of homes listed for sale a year ago.
March's Closed Home Sales: 58
Closed home sales surged 103% above the previous month and equaled the number of homes that closed during March of last year.
March's Median Sales Price: $436,500
The median sales price increased 13% over the previous month and was 8% higher than the median price a year ago.
Learn More
*WWMLS WA Data