Walla Walla Real Estate Update – February 2023
This year, Walla Walla has experienced an interesting market comprised primarily of serious buyers and sellers.  Buyer demand has remained at reasonable levels considering interest rate levels.
Closed home sales are off to a sluggish start. Closed home sales for February showed an uptick when compared to January but were down significantly from the previous year. Closings for the first two months of the year fell 47% off last year's pace. However, pending sales – homes under contract but not yet closed – grew 4% in February indicating busier closing months ahead.
Inventory continued annual gains. In February, listing inventory grew to 3.54 months compared to just 1.17 months a year ago. While inventory is up from the previous year the number of homes listed for sale is not expected to grow significantly due to many homeowners not wanting to sell and give up their 3% or 4% interest rates.
Median Prices stabilized. After two consecutive months of year-over-year declines, Walla Walla's median price came back to where it was a year ago. Annual price growth is expected to continue this year but at a modest rate when compared to the significant growth of the previous 2 years.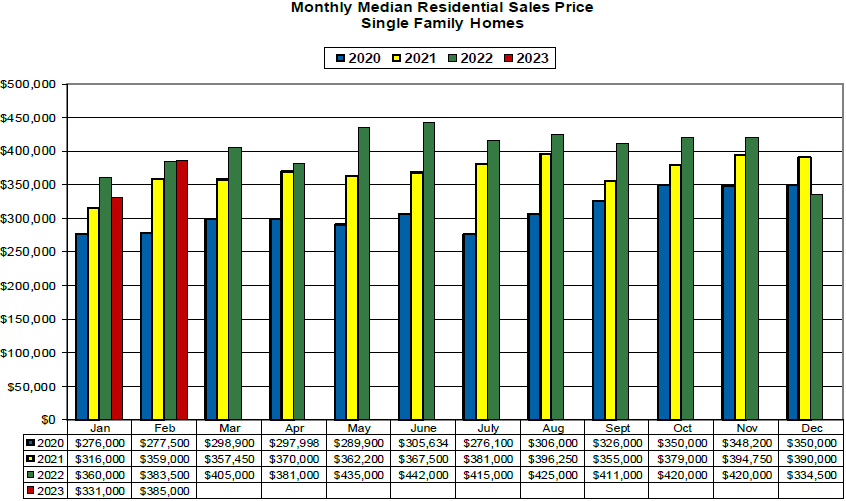 February's Listings: 135
The month's listings declined just 2% from the previous month but remained 67% above the number of homes listed for sale a year ago.
February's Closed Home Sales: 25
Closed home sales increased 25% over the previous month but was 38% below the number of homes that closed in February of last year.
February's Median Sales Price: $385,000
The median sales price increased 16% over the previous month and ended up just slightly above February of last year.
Learn More
*WWMLS WA Data