Walla Walla Real Estate Update – June 2022
The Walla Walla Valley real estate market remained active in June, but there were more houses on the market, longer market times, fewer offers at one time, and more price adjustments.
Inventory jumped up again. There were 6 weeks of inventory on the market in June as compared to just 2 weeks of inventory a year ago. While still considered a sellers' market, rising interest rates and more homes on the market caused some sellers to be more flexible in the terms they were willing to accept. Yet, sellers, who correctly priced their homes, were still able to get top of the market prices.
Closed sales slowed. When compared to last year's record-setting pace, home sales cooled a bit. At the end of June, year-to-date closed home sales were 5% behind last year's closings during the same period. Buyers enjoyed having a bit more time to look at more properties.
Price growth didn't slow – yet. The median sales price increased 20% over a year ago and set a new monthly record high of $442,000. While price growth slowed in much of Washington state, this did not occur in Walla Walla. However, increasing listings and decreasing sales are expected to slow price growth as we head into the second half of the year.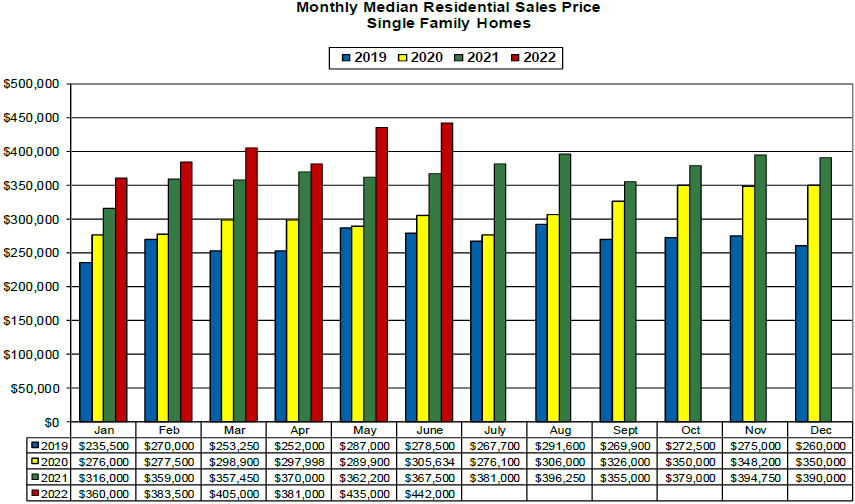 June's Listings: 180
Listings increased 9% over the previous month and jumped 89% higher than a year ago.
June's Closings: 77
The month's closed sales increased 5% over the previous month but ended 19% below the number of homes that closed in June a year ago.
June's Median Sales Price: $442,000
The month's median sales price increased 1.6% over the previous month, and jumped 20% above the median sales price for June of last year.
Learn More
*WWMLS WA Data