Walla Walla Real Estate Update – April 2022
The NWMLS reported that rising interest rates and inflation, coupled with a slight improvement in inventory, may bring some normalcy to the frenzied housing market. Here is what's happening in the Walla Walla Valley:
Walla Walla experienced an increase in inventory and unsold properties. 88 new listings hit the market in April bringing the number of homes actively listed for sale to the highest total yet this year – an increase of 155% above the number of homes listed a year ago. While the additional inventory was a welcome sign to home buyers, inventory remained at historically low levels. In April there were only 1.35 months of inventory as compared to just .83 months a year ago.
Price growth slowed. In 2021, the median sales price increased 20% over the previous year. Most economists predicted that this level of price growth was unsustainable. So far in 2022, prices are still rising but the rate of price growth has slowed a bit. At the end of April, the year-to-date median sales price was 9% above the median price for the same period a year ago.
Home sales fell 7% behind last year's pace. The number of closed home sales slowed when compared to April a year ago. However, strong buyer demand continued and we are expecting sales to bounce back as spring continues to bring much-needed inventory. What remains to be seen is the impact that rising interest rates will have.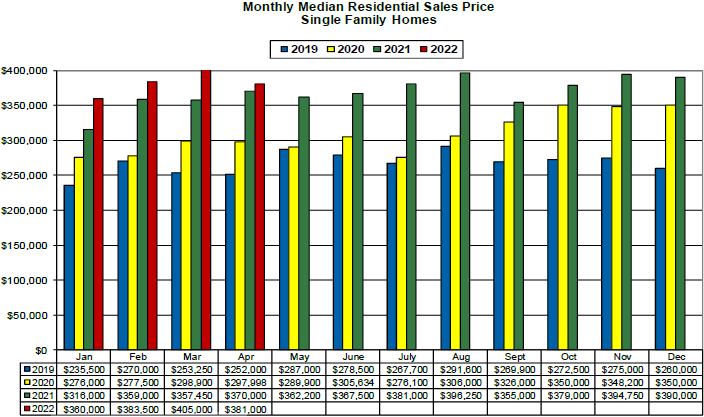 Windermere's Chief Economist Matthew Gardner shares that "we are starting to see the impact from the significant rise in mortgage rates earlier in the year, such as an increase in active listings and months of inventory creeping higher but the full impact will likely not be felt for a few months."
April's Listings: 135
The number of homes listed for sale increased 25% over the previous month and ended 155% above the number of homes listed for sale a year ago.
April's Closed Sales: 55
Homes closings declined 8% from the previous month and ended up 19% below the number of homes that closed in April of last year.
April's Median Sales Price: $381,000
The month's median sales price declined 6% from the previous month but was 3% higher than the median price for April of last year.
Learn More
*WWMLS WA Data